11.06.2013
Speaking at: the Rebuild Your Gut Telesummit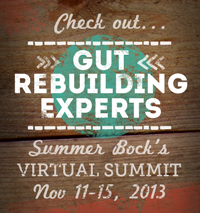 Your gut, or digestion, is the center of your health, and maintaining a healthy environment in your gut is the key to your immunity and your body's ability to fight disease, as well as all those early warning signs you may be experiencing. You may know my story, but this discovery and healing my gut allowed me to get rid of my own migraines, fibromayalgia, chronic sinus and allergies, hormonal imbalance, and more; forever.
My friend and colleague Summer Bock has devoted herself to helping others restore their gut. She's a fermentation expert and teacher, and beginning November 11th she'll be interviewing 16 experts in the field of digestion and health (including me). This is a free virtual conference that will teach you cutting edge approaches to boost your energy and heal your gut troubles, leading you to ultimate health.
Some of my favorite experts and friends are appearing, including Marc David, well know author Sally Fallon (love her!) and Dr. Sarah Gottfried. They have a lot to share, and you'll want to tune in. We're covering as many topics related to gut health as possible, so you can find your own path to unstoppable health, and brilliant energy.
I'm speaking November 14th about Your Nutritional Style and Your Gut. I'll be sharing:

· Discovering Your Nutritional Style and what that means

· How and why your Nutritional Style may change over time
· How your Nutritional Style affects your gut, and what that means for ultimate health
This unique event is free if you sign up ahead of time, so why not?
Register here, and bring a friend!