Bacon Wrapped Easter Asparagus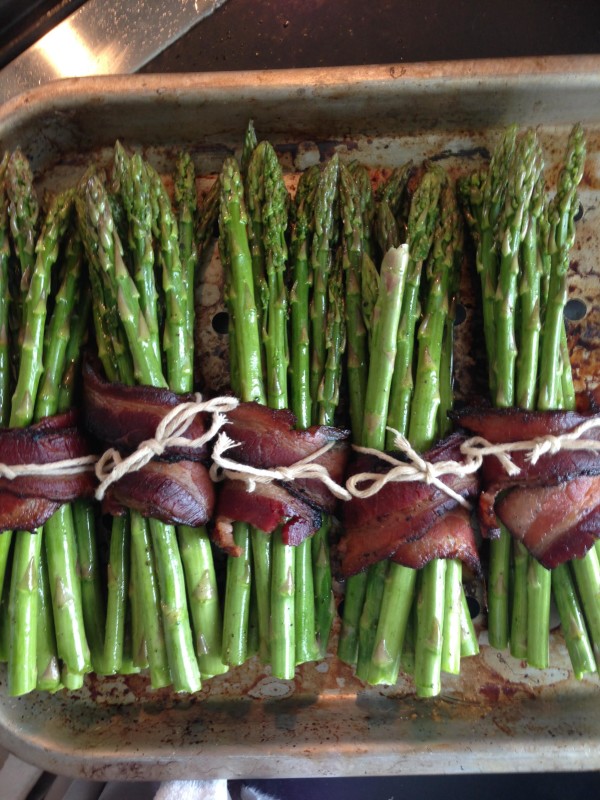 One of my favorite signs of spring is fresh asparagus. Did you know that there are festivals devoted to the asparagus all over Europe? True. While I've never grown it myself, it's a favorite of mine, especially when it's tender and fresh.
This dish is a family favorite, we used to make it every Easter. For you Modern Vegans, or non-meat eaters, be sure to reserve a tied bundle with just twine, hold the bacon.
Ingredients: 
1 bunch fresh asparagus
10-12 pieces organic grass fed bacon
pinch of Himalayan sea salt
1 tsp olive oil
Preparation: 
1. Slice bacon strips in half vertically into long, thin strips; set aside.
2. Wash asparagus, and cut off the bottom 2-3 inches.
3. Lightly coat the asparagus in olive oil; sprinkle with sea salt.
4. Wrap each piece of asparagus with one strip of bacon and place on a baking sheet. We used twine to secure it in place.
5. Set oven to 400 degrees and place baking sheet inside (this ensures the bacon stays crispy when serving).
6. Bake for 20-25 minutes, or until bacon is crisp.
7. Garnish with freshly ground pepper and serve immediately.