In My… (Spring) Medicine Cabinet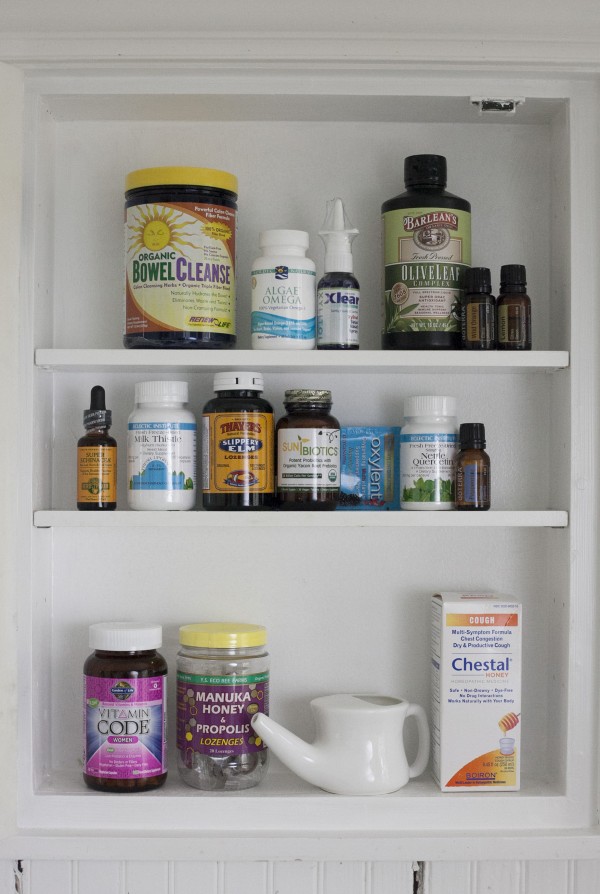 At the first whisper of spring, I want to shed my jacket and walk under the soft, early sun. But allergens are everywhere and colds and flu's are still around. Your healthy medicine cabinet can help. In the spring months, I focus on immunity, cleansing and detoxification; so I can get out and have some fun.
I believe in using toxin free, safe products as much as possible, and I like to seek out alternative resources for common issues.
Here's what's in my spring medicine cabinet.*
1) Cleanse and Clean Out
Spring is traditionally the time to cleanse after the long and cold winter, filled with heavy foods. A gentle and organic high fiber cleanse may help for short term benefits.
2) Omega 3 EFAs
Important year round, for immunity, brain health, and moods. This is a plant based source, suitable for all Nutritional Styles.
3) Natural Nasal Spray
Help keep sinus and nasal passages allergen free in early spring. This one uses xylitol, purified water, salt, and grapefruit seed extract.
4) Olive Leaf
Used as a health tonic for for centuries, since the days of Hippocrates. High in antioxidants, I keep this on hand at all times.
5) Essential Oils
Fresh, spring scents lifts your spirits, after the doldrums of winter. I love to diffuse Wild Orange in my office, and add lemon to water. I use peppermint oil for headache relief, and to freshen breath.
6) Echinacea
This immunity builder, and has a long history of use in America beginning with the Native Americans. Use this to strengthen against spring colds and flu.
7) Milk Thistle
A powerful herb that's beneficial and cleansing to the liver; good to have on hand if you've overindulged or require liver support.
8) Slippery Elm
A great way to soothe the sore throats that often come with spring colds. I keep this on hand just in case.
9) Probiotics
Supporting your digestion, and therefore strengthen immunity. Don't stop taking them now, there are virus that love to visit in spring.
10) Nettle
Providing powerful allergy relief, this herb can help you deal with excessive allergens. Many health experts agree on this herb.
11) Multi Vitamins
These can be helpful as assurance that you're getting the nutrients you need, especially if you're under stress and haven't felt well. I prefer vitamins from whole food sources, and this one is raw.
12) Manuka Honey
Beneficial for spring allergies; this lozenge contains bee propolis too, which is high in antioxidants. They also taste delicious, and that can't hurt.
13) Neti Pot
Using this ancient cleansing tool saved me from chronic sinus issues, and I use one on a regular basis to keep nasal passages clean and clear. Particularly beneficial if you live in a large city or if you've just visited one.
14) Homeopathic Cough Syrup
Helpful for spring colds, and this one works naturally with the body. It also contains honey, a natural throat soother.
*All claims are based on manufacturers claims or my personal experience. Please check for any contraindications with any medication you might be taking, consult your doctor prior to using herbs or alternative therapies.  This is not a paid ad, nor is any money exchanged for recommending any products listed here.