Porcini and Pecan Pate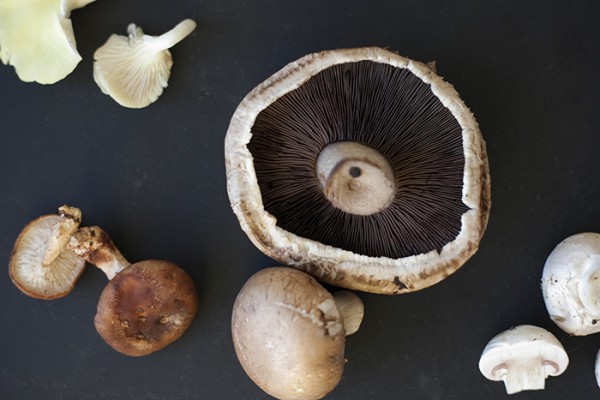 Adapted from Chef Sean Baker
Ingredients
1 cup pecans
½ cup dried porcini mushrooms, (have used shitake too)
1 cup boiling water
½ pound Portobello mushrooms
2 tablespoons tamari
2 tablespoons extra virgin olive oil
½ tablespoons nutritional yeast
½ tablespoons fresh lemon juice
1 teaspoon chopped rosemary
1 teaspoon light miso
2 dry packed sun dried tomato halves
Preparation
1. Soak pecans in water for about an hour
2. Put dried mushrooms in bowl and cover with the cup of boiling water. Let soften for about 15 min. Rub to remove grit, and transfer to small bowl. Reserve liquid.
3. Cut Portobello caps in half and trim off dark gills from underside. Slice caps into ¼ inch slices
4. In a bowl, whisk tamari, olive oil, nutritional yeast, lemon juice, rosemary, and miso.  Add sliced portobellos and toss to coat. Let stand for 15 minutes, toss occasionally.
5. In a small saucepan, combine soaked porcini and sun dried tomatoes. Slowly pour in porcini soaking liquid, stopping before grit at bottom. Bring liquid to a boil, and cover and simmer over low heat until tomatoes are tender. About 4 minutes.
6. Drain pecans and transfer to food processor. With slotted spoon, transfer the marinated portobellos, porcini, and tomatoes to food processor and puree to a course paste, adding about ¼ cup of the porcini liquid. Add more if needed. Season with salt if necessary.