In Praise of Coconut Oil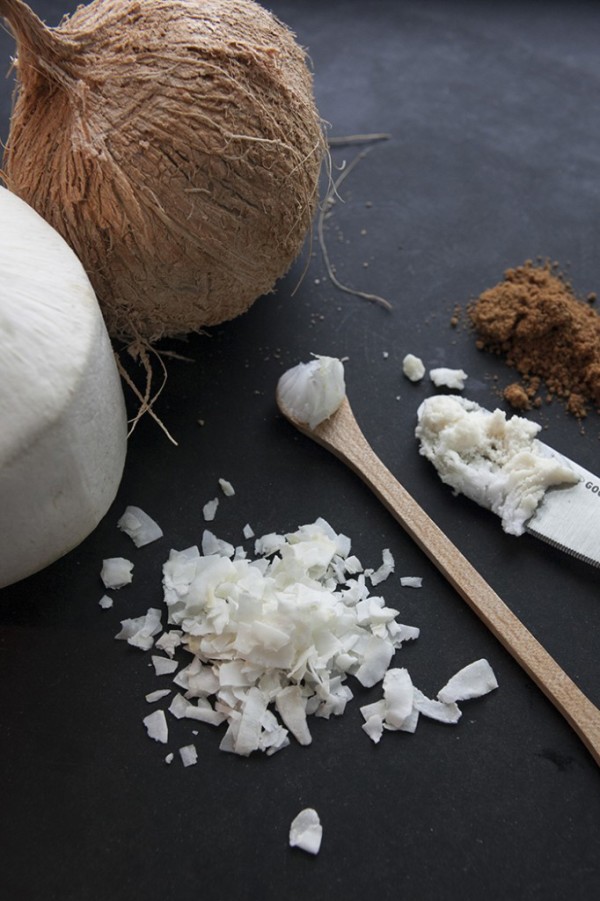 I referred to coconut Oil as the mother ship of my kitchen, and bathroom, in this blog from a couple of years ago.
Seriously, I use coconut oil everyday… for something.
Have you seen this coconut oil Instagram post? (Thank you, Mantra Magazine for the repost!)

In the kitchen:
*Coconut oil is a heart healthy fat, and can be used safely without going rancid to fry just about anything.
My son loves his eggs cooked in coconut oi, and I use it for vegetables and meat too. Stir fry is particularly tasty using coconut oil.
*We have a slate countertop in our kitchen, you may have seen it in the food and kitchen photos on my blog? Rather than use mineral oil, we use coconut oil to moisturize and nourish the slate.
It does a beautiful job keeping our counter healthy, and I don't have to worry when the occasional kitty jumps up there! Coconut oil is great for pets too, so licked paws are ok afterwards.

In the bathroom,
*I use coconut oil as a body oil, before, or during, or after a shower.
I like to add essential oils for added benefits; grapefruit to help me wake up the morning and lavender to relax and calm me at night.
How to: melt the solid oil gently on the stove, and store it in a glass container in the shower. It will re-solidify, so just use hot water to warm and liquify it when you're ready.
*I comb coconut oil through my hair before I shampoo for deep conditioning, and then leave it on for at least an hour before washing. Some days I'll do this and go for a run, then shampoo and shower afterwards.
Or you can sleep with it's conditioning effects overnight; lay a towel on your pillow for really soft hair the next day.
*Because coconut oil is anti-fungal, it helps your scalp too. Mixed with a few drops of tea tree oil, dry scalp or dandruff will diminish. Massage into your scalp prior to shampooing.
*I use it as a night moisturizer on my face, too, in the winter if I'm feeling really dry, before I go to bed.
*It also makes a wonderful cuticle oil; rub a little bit around each nail (toes too!) for healthy nails. A cotton sock might help afterwards.
That's my round up, how do YOU use coconut oil in your daily routine?
Read more: https://www.hollithompson.com/the-amazing-coconut/#ixzz4FovEjQYi