Butternut Squash Soup with Apple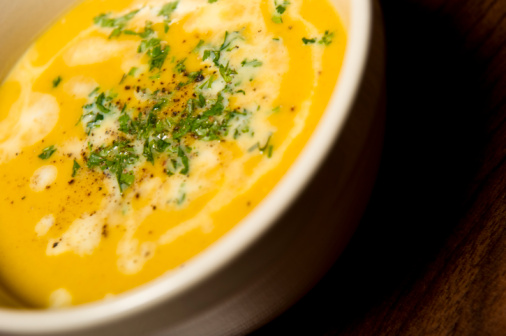 Warming and aromatic, this soup offers phytonutrients like beta carotene to give your skin a seasonal glow.
I love this year round when I want to feel more grounded and balanced. It's thick and satisfying, enough to enjoy this with a small salad as a light meal.
Ingredients
1 (2 to 3 pound) butternut squash, peeled and seeded
2 tablespoons extra virgin olive oil
1 medium onion, chopped
1 apple, chopped
6 cups chicken stock
Nutmeg and cinnamon
Celtic sea salt
Pepper, if desired
Preparation
1. Cut squash into 1-inch chunks.
2. In large pot add olive oil and onion and cook until translucent, about 8 minutes.
3. Add squash, apple and stock.
4. Bring to a simmer and cook until squash is tender, about 15 to 20 minutes.
5. Remove squash chunks with slotted spoon and place in a blender and puree, (or use your hand blender in the pot). Return blended squash to pot.
6. Stir and season with nutmeg, cinnamon, salt, and pepper.