Corn, Tomato, Avocado and Onion Salad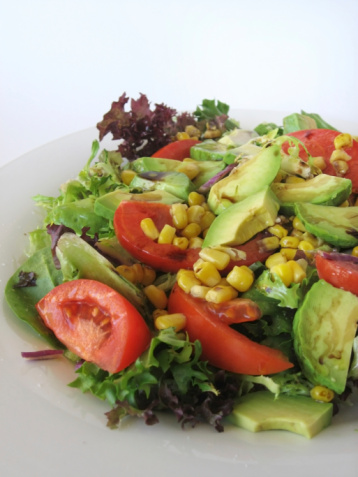 This is one of my favorite Summer salads and an easy choice to bring to a pot-luck dinner.
I prefer the corn raw off the cob- the kernals tenderize after adding the dressing and you really taste the fresh sweet flavor.
Ingredients
2 cups fresh organic corn, lightly cooked or raw from the cob
1 avocado cut into small cubes
1 pint organic cherry or grape tomatoes halved
1/2 cup finely diced red onion
Dressing:
2 tablespoons extra virgin olive oil
1/2 teaspoon grated lime zest from organic lime
1 tablespoon squeezed fresh lime juice
1/4 cup chopped cilantro (optional)
1/4 teaspoon celtic sea salt
dash of cayenne pepper (optional)
Preparation

1. Soak onion first for 20 minutes in iced cold water to remove some of the sharp flavor.
2. Combine the corn, avocado, tomatoes and onion in a large glass bowl. Mix the dressing ingredients in a separate bowl, and to salad and gently toss.