Review: Elizabeth's Gone Raw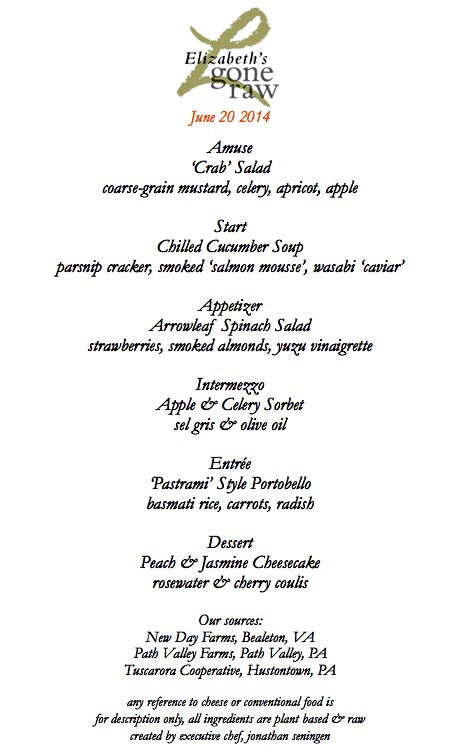 Coming to Washington, DC, anytime soon? If so, don't miss this restaurant review!
Elizabeth Petty is a Washington, D.C. business woman, wife and mother. She also owns an elegant catering company and had breast cancer five years ago, which inspired her to create Elizabeth's Gone Raw, a raw food dining experience located on L Street, NW in downtown D.C.
Petty delved into raw cuisine as a reaction to her cancer scare, and offers her own version of raw food as only a successful caterer would. Incredibly well. This restaurant defies what you might expect from "health food."
Elizabeth's Gone Raw currently serves dinner only once a week, on Fridays, and cocktail hours on the occasional Thursday. Located in a lovely historic townhouse, they feature a prix fixe menu. The entrace is a surprise if you're expecting the cuisine to look like nuts and seeds. Instead, I was greeted by peach colored walls, gold leaf mirrors and a wrap-around bar surrounded by elegant people.
I sampled the cocktail of the day, too gorgeous to resist; a lovely creation called Savory Me, served up and made with tarragon scented organic tomato water, George "Terrior" gin, La Cigarrera Manzanilla, raw organic blonde coconut nectar, and fresh lime juice. I enjoyed the cocktail and nibbled on homemade Kale Chips as we waited for our table.
The upstairs dining room is elegant, with white table cloths and a polite, efficient wait staff. Even Pure Food and Wine in NYC hasn't raised raw food to this standard! This pretty locale is available for private dinners, receptions, or events when Elizabeth is not serving her raw cuisine. For events Elizabeth offers a full range menu, not just raw. I am dreaming of a book party here.
The menu at Elizabeth's Gone Raw featured 6 courses of taste sensations on the night we visited that left us feeling satisfied but not stuffed.
After our cocktail and chips, the amuse course was a delicious "Crab" Salad, made with slivered royal trumpet mushrooms that indeed, tasted like fresh crab. Perhaps my favorite course of the night, a Chilled Cucumber Soup with "Salmon Mousse" was created using carrots, zucchini, dulse and other ingredients that left me craving more.
I also loved the entree, a Pastrami Style Portobello, seasoned with garlic, clove and cinnamon served with (green papaya) basmati rice, and a shallot and chestnut sauce. The dessert was a delicious creation of peaches and jasmine; fragrant, sweet and delectable.
Elizabeth Petty joined me, and explained the depth of care and effort that goes into her cuisine; sharing stories such as broccoli sprouts that were delivered that morning from a farmer in Bealeton, VA., who had worked for years to improve the mineral content in his soil. Or the alkaline ionized water they use for everything, including rinsing vegetables, making drinks, and serving their guests. It's said to be more hydrating than regular water, and it tastes clear and pure.
Elizabeth's wine list is extensive and features many bio-dynamic and organic wines, and they offer a not-to be-missed wine-pairing option to accompany your meal if you're a wine lover.
Prepare to be wowed by Elizabeth's Gone Raw. You'll love this experience, and don't hesitate to take your friends, or husband.
Elizabeth's Gone Raw, 1341 L St. NW. $75 for Prix Fixe-6 courses. Natural wine pairing, $50. reservations@elizabethsgoneraw.com or 202-347-8349 or 202-347-8040
Any reference to conventional food is for context. The entire menu is plant based.