Healthy Kids: Babycakes cupcakes!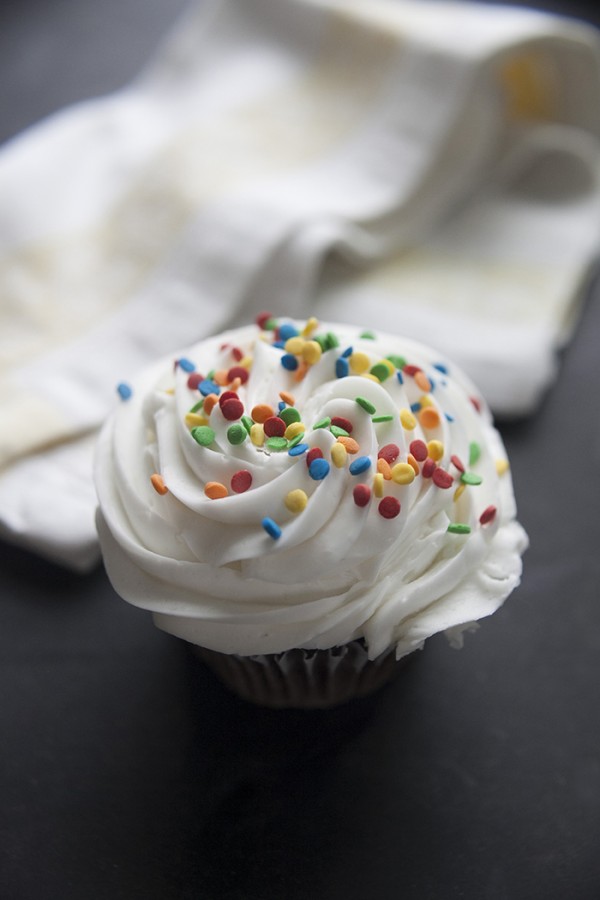 Every kid needs a cupcake once in a while, no matter what his or her age. I give this recipe to my clients so they can enjoy a yummy snack without the guilt of chemical ingredients and overly sweet and processed sugars. As an added plus they are gluten free, dairy free and vegan.  Your kids may not care, but you do.
I made these for my son's birthday party this spring and it was a pleasure to not have kids going crazy with sugar-spiked moods. They were scrumptious.
The recipe is from the Babycakes cookbook by Erin McKenna, a favorite in our house and also a destination bakery downtown when we're in New York (I've been guilty of heading there without my child).  They have a new location in L.A. also.
The best part?  They deliver all over the country…Go ahead and try your hand, and if you need to, here's the number and link. 
Vanilla Cupcakes
Ingredients
2 cups garbanzo-fava bean flour
1-cup potato starch
½ cup arrowroot
1 tablespoon plus 1 and ½ teaspoon baking powder
1 teaspoon xanthan gum
2 teaspoon salt
2/3-cup coconut oil
1 and 1/3 cup agave nectar
¾ cup unsweetened applesauce
3 tablespoon pure vanilla extract
grated zest of 1 lemon
1-cup hot water
Vanilla frosting (see below)
Preparation
1. Preheat the oven to 325° F.  Line 2 standard 12-cup muffin tins with paper liners.
2. In a medium bowl, whisk together flour, potato starch, arrowroot, baking powder, baking soda, xanthan gum and salt.  Add the oil, agave nectar, applesauce, vanilla, and lemon zest to the dry ingredients and combine.  Stir in the hot water and mix until the batter is smooth.
3. Pour 1/3 cup batter into each prepared cup, almost filling it.  Bake the cupcakes on the center rack for 22 minutes, rotating the tins 180 degrees after 15 min. The finished cupcakes will be golden brown and will bounce back when pressure is applied gently to the center.
4. Let stand for 20 minutes in tins, and transfer to wire rack to cool.  Using a frosting knife, spread 1 tbsp vanilla frosting over each cupcake.  Store in airtight container in refrigerator for up to 3 days.
(Makes enough for 24 cupcakes)
Frosting
Ingredients
1 and ½ cup unsweetened soymilk
¾ cup dry soy milk powder
1 tablespoon coconut flour
¼ cup agave nectar
1 tablespoon pure vanilla extract
1 and ½ cup coconut oil
2 tablespoon fresh lemon juice
Preparation
In a blender or food processor, combine the soymilk, soy powder, coconut flour, agave nectar, and vanilla.  Blend the ingredients for 2 minutes.  With the machine running, slowly add the oil and lemon juice, alternating between the two until both are fully incorporated.  Pour the mixture into an airtight container and refrigerate for 6 hours or for up to 1 month.