Spicy Pumpkin Shake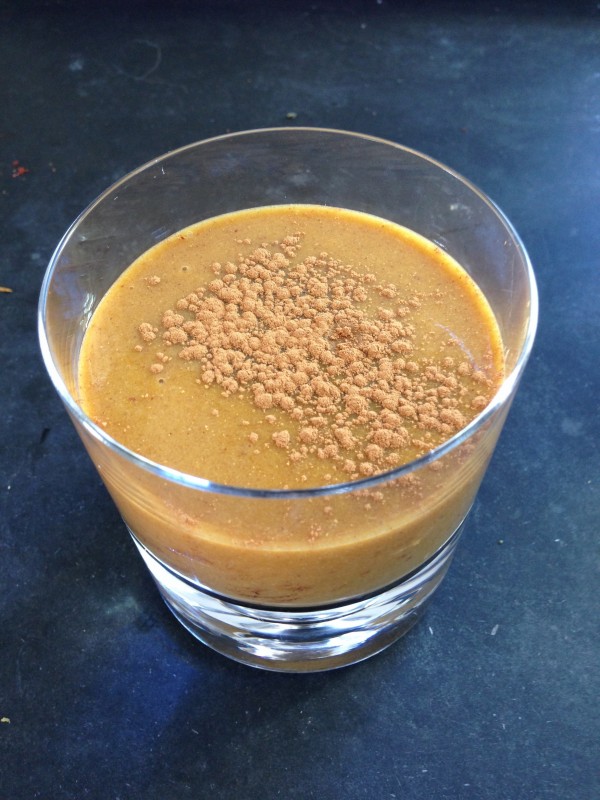 Pumpkin is the new black.
Well, at least this November.
I love it year round, but it's interesting how we're drawn to this seasonal squash in the Autumn, and crave it along with warming spices, like cinnamon, nutmeg, turmeric and ginger.
It's helping prepare us for the cold months ahead.
Here's a pumpkin smoothie that I whipped up this morning.
Ingredients;
1/4 cup raw coconut meat
1 scoop plant based protein powder
1/3 cup cooked pumpkin
1 small clementine, peeled
1 tablespoon ground flax seeds
1/2 inch fresh ginger (or use a big shake of powdered)
1/4 inch fresh, raw turmeric (or use a big shake of powdered)
Big shake of cinnamon to taste
Big shake of nutmeg to taste
Blend in a high speed blender, and savor.
Love pumpkin? Check out Guest Blogger: Michelle Martello's Pumpkin Pie Smoothie here.
And Guest Blogger: Elizabeth Stein's Pumpkin Oatmeal here.