Rancho La Puerta Spa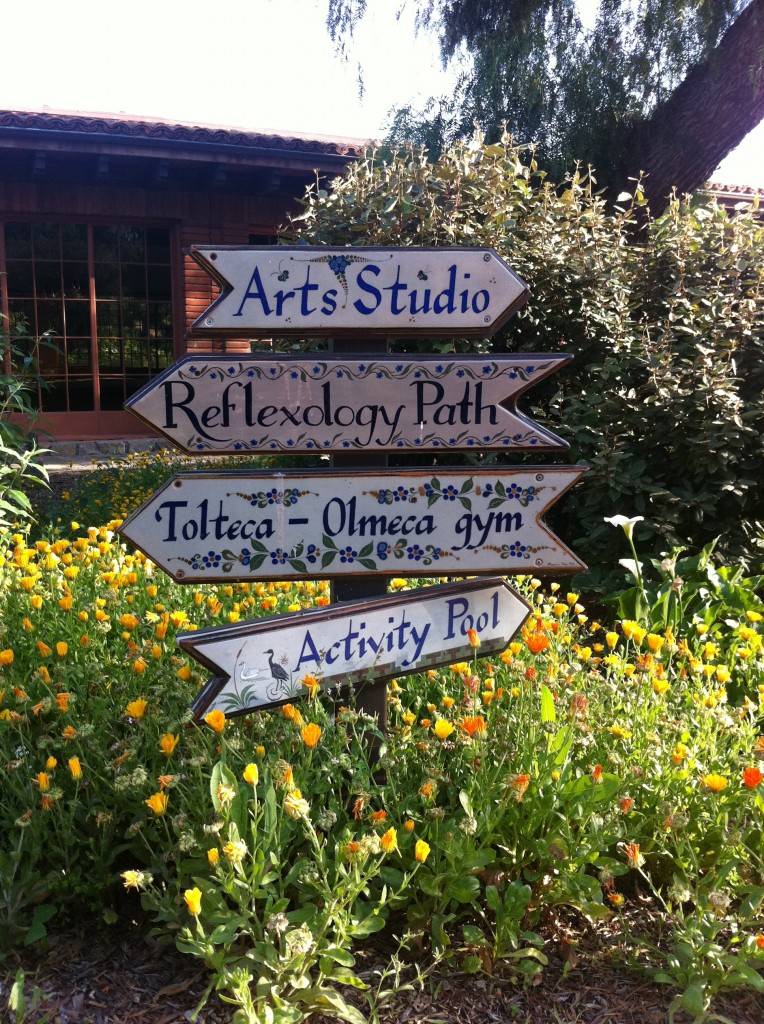 I needed a re-boot, so I called my favorite get away spa, the Godmother of all destination spas, Rancho, as she's fondly known to us followers. This was to be my 5th trip to Rancho La Puerta, a spa in Tecate, Baja, Mexico and a short ride from the San Diego airport. I could feel the relief coming. Salvation was on it's way.
Rancho La Puerta in May is heaven on earth. Every square inch, it seemed, was in bloom. It doesn't help that founder, Deborah Szekeley's daughter, Sara Livia, is a landscape designer and has masterminded its' acreage to become a work of art.
The air was crisp and clean. The weather was chilly at night and warm during the day. My private "Ranchera" was adorable and comfortable, with tile floors and decorative local Mexican design touches.
The fitness schedule at Rancho is not for the faint of heart, and yet if your intent is to relax, eat well, and journey inward, this is your place. Personally, I was interested in getting my groove back, and not in a "Stella" groove kind of way, if you know what I mean. I wanted to get my yoga groove back, my computer muscles were way too taxed, and my hiking muscles wanted some exercise.
Each hour, beginning at 6am many mornings, Rancho offer choices. You can hike the low foothills, walking gently or fast, or you can climb sacred Mount Kuchumaa and visit Alex's Oak Tree, an ancient oak that juts it's profile out into the clear blue skyline and is now named for owner Deborah Szekeley's son, who passed away.
Each hour following the hike is filled as well, with choices ranging from yoga, to pilates, to Zumba, African Dance, Cardio with Weights or even a Strip Tease class complete with feathery boas. (yes, I did do that one)
Most people prefer to hike, then take classes, and wind down around 11 or 12, eat lunch, and hang out. Choices to relax and meditate are abundant and class choices range from guided meditation to restorative yoga to Watsu, a pool based tranformative experience that everyone was raving about. Rancho's treatments and massages are as good as any other luxury spa, and addictive. I loved their deep tissue massage, and so did my aching computer shoulders, and their hot stone massage was transporting.
The two spa environments are lovely, with a rooftop whirlpool and sun bathing for women only.
Rancho also has a new cooking school, called La Cocina Que Canta, with a vast organic garden. They offer garden tours along with their cooking classes. I rode over one evening in the spa van for a vegetarian cooking class, and as the sun set, we toured fields of lavender and flowers, tasting the edible varieties. We picked strawberries for the dinner we were about to prepare, and I personally tasted 6 varieties of kale, fresh from the ground. I was promptly outed as being a "Nutrition Coach" who eats raw kale.
The cooking class was fun and informative, and we learned that the gardens are not just for touring. The chefs at Rancho prepare meals 3 times a day from these extensive gardens, and design their cuisine around what's seasonal and fresh. My preferred way of eating exactly.
I was there in the Spring, so we enjoyed greens and herbs and strawberries along the way that week. They have to supplement from other places, in order to feed their large guest list and offer a varied menu, but for the most part the spa remains seasonal in their approach.
Rancho La Puerta inspires loyalty in an unusual way, and returning guests fly there each year like homing pigeons. It was normal to hear, "I've been here 12 times." "This is my 18th visit", and so on. Many groups form friendships and return the same week each year.
On the first day of my trip, a tall, attractive woman walked towards me. "You might not remember me, but you told me about this place 15 years ago." She was someone I remembered well, an old friend from my days at Chanel. She told a story about seeing me tanned and toned after a trip to Rancho, wearing a Chanel sleeveless dress, (of course:) and how she signed up that day. She'd been back each year for the last 14 years. She had a network of friends who had all heard the story, and I was introduced as the girl who had inspired her years and years ago. It was an incredible twist of fate, and we all loved the magic.
I had an instant group of women to hang with, and I got to reconnect with a really cool friend. I found my sparkle at the top of Mount Kuchumaa, and my inspiration in the quiet afternoons. I was transported by meditating with crystal bowl sounds, and slept like a baby at the end of each day. It lived up to every memory I had, and it did the trick. I was inspired, rejuvenated, and restored.

Head there soon, you never know the magic you might find.
For more information, please go to www.rancholapuerta.com