Raw Pasta and Tomato Sauce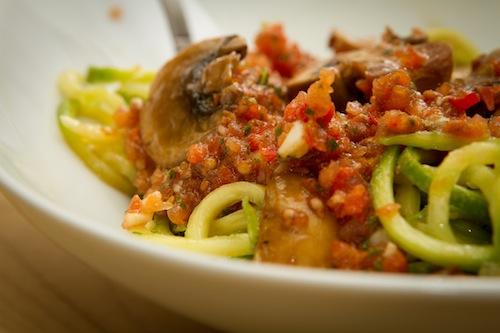 This raw Tomato Sauce is simple to make; it takes 5 minutes.
It's a great way to take advantage of your abundance of warm weather tomatoes.
I serve this with raw zucchini noodles and if you haven't tried this you'll be amazed at how delicious they are. You can also use your own noodles.
To make the zucchini noodles, you'll need a spiralizer, a convenient kitchen tool to have.  The spiralizer makes long pasta noodles from vegetables like zucchini and can also be used for potatoes, or any firm root vegetable.
You can also use a simple vegetable peeler to create your own zucchini noodle strips. Just wash the zucchini and peel the skin, then peel long strips of pasta with your peeler.
Raw Tomato Sauce
Ingredients:
1 to 1 1/2 pounds ripe tomatoes, about 3 large tomatoes
2-3 garlic cloves, peeled
1/4 cup olive oil
1/4 cup chopped fresh basil or parsley
1 cup of sliced mushrooms
Celtic sea salt to taste
black pepper, to taste
1 pound pasta or zucchini noodles
freshly grated Parmesan cheese for serving
or your favorite vegan parmesan
Preparation:
In a food processor, combine garlic, tomatoes with juice, olive oil, and basil. Pulse quickly to chop roughly. Pulse more for a smoother sauce, if desired. Transfer to a bowl, add salt and pepper and mushrooms and let stand to marinate for about 20 minutes.
Cook pasta until just tender, drain and toss hot with the marinated tomato sauce, or top your zucchini noodles.