DIY nutrition bar style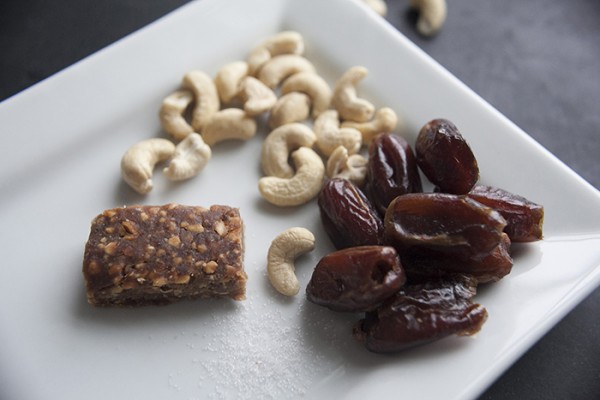 I mix these do it yourself bars for my son and his friends. I think it takes less time to do than to buy them at the store, they're that easy (and have you seen the lines at Whole Foods?).
They're my favorite grab-to-go snack too…and a whole lot better than some of the supposedly healthy bars out there, right?
Notice the slight variations…it'll be simple for you to come up with your own.
Not ready to enter your kitchen? Don't miss my Best Nutrition Bars blog.
Lemon Bar
Ingredients
1 cup mixed cashews and almonds
1 cup dates
Zest and juice of 1 lemon
Ginger Snap
Ingredients
1 cup mixed almonds and pecans
1 cup dates
2 tablespoon fresh ginger
1 tablespoon mixed cinnamon and cloves
Coconut Cream Pie
1 cup mixed almonds and cashews
1 cup dates
1 cup shredded coconut
2 tbsp coconut oil
Preparation:
1. If your fruit is tough or extra chewy, it can be soaked in 1/3 cup of warm water for 10 minutes, then drained and processed according to the directions below.
2. Combine all the ingredients in a food processor and pulse about 30-45 seconds, or more if necessary.
The mixture should stick together well, you can test this by pinching with your fingers.
3. For mess free bars, line a loaf pan with parchment paper. Pour the processed bar mix into the pan, fold the other half of the wrap over the mix and press firmly into bars.
4. Place the bars in the fridge for about an hour and then cut into 6 bars/pieces.
These homemade bars can be individually wrapped and stored in the freezer for on the go snacking. They freeze well.
Now, share your nutrition bar style! What's your favorite?