Red Foods for Heart Health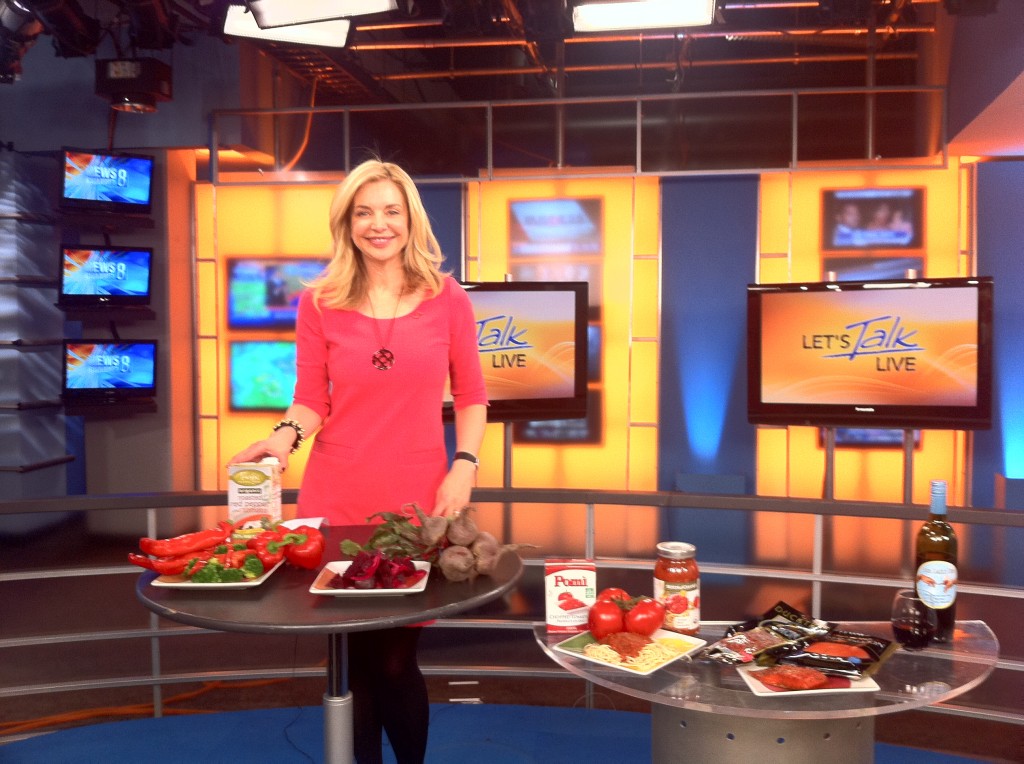 February is Heart Health Month in the US, and I was a guest on ABC's "Let's Talk Live" last week sharing five red foods for heart health.
The American Heart Association, and the Million Hearts Initiative are campaigning for heart health, and adding these 5 easy foods to your diet will help.
Check out the tv clip for the live version.
1)   Red Pepper::
Red bell peppers provide your daily dose of Vitamin C, and are a wonderful addition to your diet, especially during the winter cold and flu months.  They help support your immunity and also provide double your daily need of Vitamin A.  I showed them steamed with broccoli and garlic for a colorful and tasty side dish.
2)   Beets::
Beets are high in heart healthy folate, which helps to produce healthy cells.  They also contain magnesium, a necessary mineral for healthy bones and muscles. They're also high in fiber, and help support a healthy digestion and immunity.
I shared a roasted beet salad with slivers of red onion, olive oil and a splash of red wine vinegar.  I also love grating raw beets on top of my salad greens.
3)   Tomatoes::
Tomatoes are high in the antioxidant lycopene, which is released when cooked.  Lycopene is particularly healthy for men, and has been indicated in prostate cancer prevention.  They also contain the essential, and often deficient minerals potassium and magnesium, as well as Vitamin C to boost your immunity.
I shared an organic tomato sauce with gluten free pasta, salsa, and a lovely tomato soup.
4)   Wild Salmon::
Wild Salmon is both a healthy protein and fat, containing essential omega 3 fatty acids to reduce inflammation, benefit the heart muscle and boost your immunity.  Vegan or vegetarians, get your EFA's from flax oil or flax seeds, or chia seeds.
I shared smoked wild salmon on a bed of greens.
5)   Red Wine::  in moderation
Red wine is loaded with polyphenols , most notably resveratrol , an antioxidant that is known to lower cholesterol, and has been shown to help prevent certain cancers, especially prostate cancer when consumed at the correct level.  This antioxidant has also been indicated in preventing dementia.
Red wine can lower risk of heart disease, because it prevents blood clotting and plaque formation.
Caution on this one: For men, the amounts of red wine are more lenient and studies recommend a glass or two a night, but for women, having more than a few drinks a week increases the risk for breast cancer.