Saffron Quinoa with Seasonal Vegetables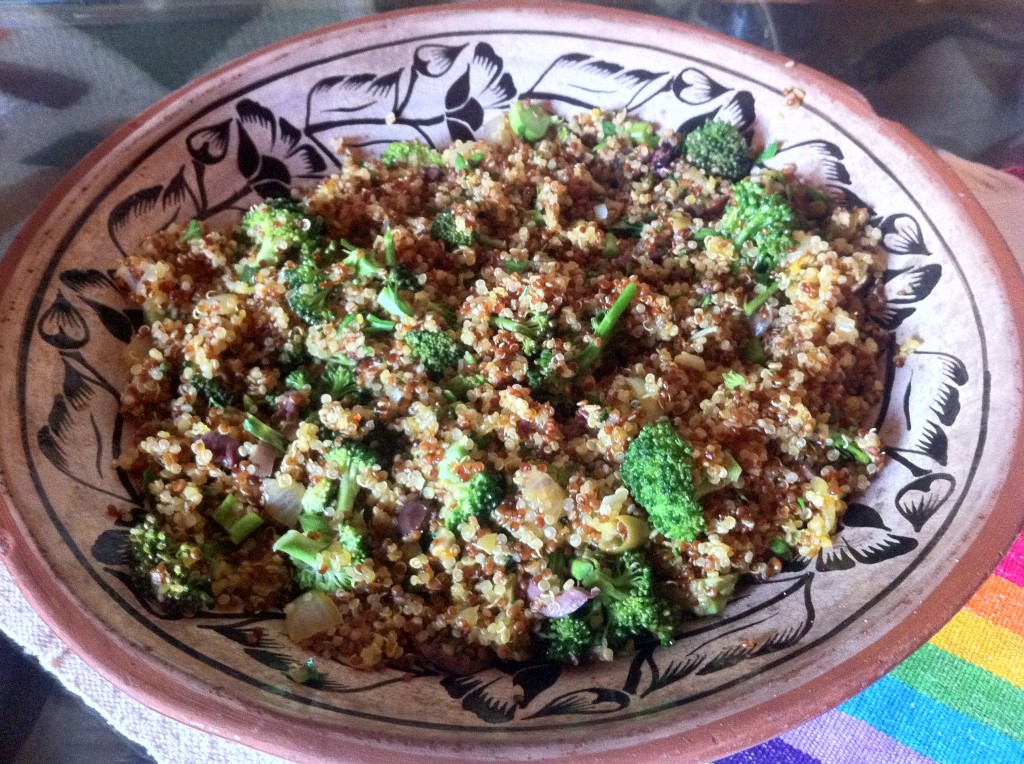 From guest chef to Rancho La Puerta, Jill Nussinow
Holli's note: Quinoa is actually a seed, not a grain, and is a wonderful protein source for vegans and vegetarians. It's easy to digest, and high in fiber, so it also makes a great option for carb-loving people who don't want the "bloat" they get from rice and pasta.
Ingredients
1 cup quinoa, rinsed
1/4 cup warm water
pinch of saffron threads
2 teaspoon olive oil
1/2 onion, chopped
2 cloves garlic, minced
1 1/2 cups vegetable broth
1/2 cup chopped broccoli
1/2 cup green onion (Holli's addition)
3 tablespoon chopped cured olives
1/4 cup chopped fresh herbs, like parsley, lemon verbena or dill
Drizzle of olive oil and lemon juice
Preparation
1. Heat saucepan over medium heat. Add olive oil and then onion and garlic.
2. Saute for a few minutes.
3. Add quinoa and toast it. Add saffron and the soaking water. Add the broth. Stir and bring to a boil. Cover and reduce to a simmer. Let simmer for 12 minutes on the heat.
4. Remove from the heat and add vegetables. Replace cover and let sit for 5 minutes.
5. Check to be sure the quinoa is cooked through (it will have little white rings).
6. Stir and add the olives and herbs. When ready to serve, add olive oil, and lemon juice and toss.