Spring Wellness tips from the squad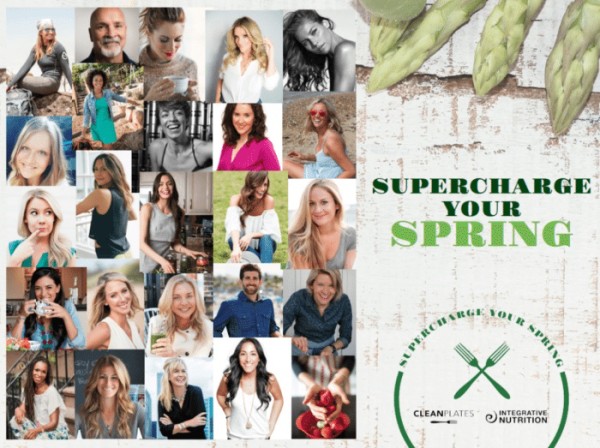 Spring is here, my dear, are you ready?
My friends at Clean Plates, a resource for all things healthy, asked for my best health tips for Spring, and along with 24 of our nations top health coaches, they turned our candid responses into a fabulous new E-Book.
Because why not share the love?
Read on below to meet some of my friends and learn what they had to say…
And for the rest of those tips, head on over to Clean Plates for your free E-Book.
They joined forces with the Institute for Integrative Nutrition (IIN) to create Supercharge Your Spring, 25 rejuvenating tips that will inspire you to get going, plus 12 delicious recipes, including one of my own! (asparagus soup, anyone?)

Here's a sampling of some of my favorites..
GET OUTSIDE
Heather Thomson, brand ambassador and former "Real Housewives of New York City" cast member recommends "making an effort to set aside time to be outdoors, whether it's a walk in the woods, a run, skiing, or hiking. Nature is nurture." For Heather, this provides balance and calm; after all, "happiness is more than a number on a scale."
I couldn't agree more.
SPRING CLEAN
A home makeover is critical, according to Vanessa Packer, founder of Modelfit, and a true believer in the less-is-more philosophy: "Making sure you are as decluttered as possible will leave space for creativity and peace."
Also, if you want to kickstart your workout regime, consistency is critical. "Setting weekly goals and making sure you meet them is what makes the biggest difference," says Vanessa.
I've been decluttering a LOT lately; I believe it opens us up for new things!
LIVE BY THE 80/ 20 RULE
My class mate Elizabeth Stein of Purely Elizabeth, a healthy food brand, believes eating healthfully 80 percent of the time, and letting loose (in moderation) the other 20 percent is the best way to "prevent feeling guilty for eating a slice of pizza on a Saturday night. It will free you from the idea of perfection and allow you to just enjoy life!" Part of her 80 percent? Starting the day with oatmeal topped with fresh fruit and nut butter.
And that's what I love about Elizabeth!
You'll want to grab your book to see MY favorite tip, plus all the other good stuff in there.
Free E-Book