Vegan Dining for the Uptown Girl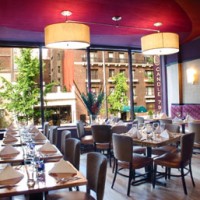 If you are in New York and love vegetarian, vegan, organic ,clean, sustainable and local foods, and want to feel like a grown up, head uptown to Candle 79 for a fine dining experience. Here is a place vegan girls can take their pasta eating boyfriends or husbands and everybody's happy.
The wine list is excellent, and choices are organic or biodynamic from all over the world. They also offer a sake bar- served chilled and up, of course. And for the non-drinkers, a fresh list of tonics , juices and smoothies are sure to entice.
Dinner choices range from creamy homemade pastas to a few "live" options (raw) that were delicious (lasagna anyone?). Being a vegetarian restaurant, they offer sides of tempeh (fermented soy bean cake) or seitan (gluten protein) as options with salads. Seitan is actually featured throughout the menu. The Seitan Piccata is a best seller but for the gluten-free crowd there's plenty more to satisfy you.
The salads are creative and fresh. My friend loved her Wild Mushroom Salad- arugula, cippolini onions, wild mushrooms, tomatoes, and creamy horseradish dressing…and my favorite is the Seaweed Salad – carrots, cabbage, grilled shitake mushrooms, edamame, radishes, wasabi leaves, and miso-ginger dressing. It was light, fresh and not too "seaweed" tasting.
Our appetizer special was yummy- Corn Crusted Sautéed Oyster Mushrooms covered with a delicate baby creamed corn sauce. The Saffron-Lobster Mushroom Ravioli is a house specialty – rich and creamy made with cashew ricotta, sautéed spinach, crispy capers, tomato sauce, cashew cream and truffle oil.
Also try the Moroccan Chickpea cake for your entrée, or do as my friends and I like to do, and order an array of appetizers and salads and entrees to share. "Angels Nachos" are a healthy take on the traditional Mexican nacho platter and the Smoked Hummus brings the Middle Eastern specialty to new levels. This restaurant loves to reach out to different ethnic cultures for spices and flavors so there's lots to taste and inspire you.
Candle 79 is a Certified Green restaurant and part of the Green Restaurant Association of New York. They are open 7 days a week for lunch/ brunch and dinner nightly.
Candle 79  www.candle79.com
154 East 79th Street, New York, NY 10075-0423?(212) 537-7179